North Battleford Landscaping
Introduction to Landscape Design
You can add beauty and street appeal by designing and planning a makeover for your residential or commercial properties. Landscape Design is a matter of incorporating the softscapes of your location, which includes: plants, shrubs, flowers and trees, along with the hardscape elements of your site, such as: paved patios, driveways and courtyards.
When planning your Landscape Design you should consider some basic elements or principles of Design. There are four basic design elements to consider when planning to reinvent or to establish a new landscape site. The elements that must be taken into consideration for both softscapes (plants, shrubs, flowers) and hardscapes (paved patios and driveways) contained in your property are: Color, Form, Line and Texture.
Our Services Include:
Walkways ( stone, concrete, and pavers )
Retaining walls
Shrubbery and plant installation
Mulching
Excavating
Hauling
Introduction to Landscape Equipment
There is no question that a well kept landscape can really add appeal and enhance the overall look of your property. Many of us spend a lot of money on our landscape designs, so it is very important to maintain and look after our investments, by doing so you can also increase the value of your property. When people look at your home, they usually come in the front and it is the landscape which will form the person's first opinion of your home and lifestyle. In other words, your landscape says a lot about you and what the person can expect with the rest of your house.
For all of these reasons it is important to look after your landscapes, and an easy way to do this is to have the right type of equipment to do so. For those with larger properties, you may need larger equipment and machinery, but for those with regular lots, you should have the basic tools and equipment readily available, so that you can carry out regular work and up-keep the stunning look of your landscapes and lawns.
Retaining wall materials for residential or commercial applications for garden walls or as a fencing system are made from the following material types that include: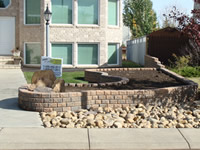 Brick
Stone
Concrete
Timber
Steel
Plastic
Stucco
Natural Rocks