Rubber Paving Installation
Covers Cracked Concrete or Asphalt with at tough, permanent, slip-resistant surface
which utilizes recycled Saskatchewan tires.
Check out our brochure - pdf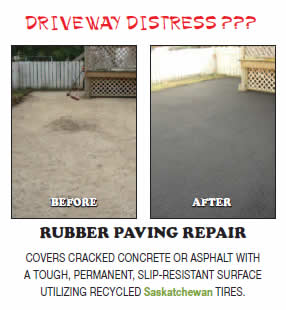 A cold mix of recycled tire crumb and resin, poured and rolled in place, cures in 24 hours to a durable protective surface, designed to last a lifetime.
Your driveway, walk, or patio will look like new, with minimal maintenance.
Decorative Landscape alternative designs and colours
• No vegetation
• No Maintenance
• A Variety of Colours
• Designed to last a lifetime
Long lasting, durable, rubber paving for your landscaping project - select from the colors at the right
Now that's NEW TECHnology at its finest!
for a free estimate without obligation
Call 306-446-2615 or 1-866-877-2615